When it comes down to it, the Great Smoky Mountains National Park is in an amazing location. The conditions are perfect for growing gorgeous forests, misty rolling mountains, meadows full of wildflowers and year-round waterfalls. It's actually the most visited National Park in America. But just because it's such a popular destination doesn't mean there aren't hidden gems and undiscovered places to explore all around the Smokies. While the scenery is utterly breathtaking, there's even more to The Great Smoky Mountains than just Pigeon Forge, Clingmans Dome and Blue Ridge Parkway, it's a park that's loaded with Southern Appalachian history, mountain culture, and endless fun!
Travel tips for visiting the Smokies: -Hiking, horseback riding, whitewater rafting, and more are all fun activities within the park, but it's also one of the best parks for taking scenic drives. There are hundreds of miles of road that twist and wind through the mountains. -Additionally, the Southern terminus for the famed Blue Ridge Parkway, a scenic drive that links the Smokies with Shenandoah National Park, is found at the edge of the park. -Get to the park early in the morning to see why they're called the "Smoky" Mountains...the mist is so peaceful. -Gatlinburg and Pigeon Forge, two cities near the park, are loaded with all kinds of kitschy tourist fun, kids especially will appreciate the cultural attractions and shows.
Your first stop is Blackberry Farm, which has to be some kind of heaven on Earth. Check into this inn that's set on a 4,000 acre working farm, and stay in one of the charming, antique-furnished rooms that come with drinks, snacks, and enjoy three meals a day, from their delicious, farm-to-table, Southern cookin' restaurant. Plus, expect to be pampered like royalty.
Pack a picnic for Cades Cove, a valley meadow that has a one-lane road that's a super popular scenic route. Along the drive, you'll find little historic buildings that you can explore and gorgeous views of the surroundings. In the spring, it blooms with tons of wildflowers.
There are hundreds of miles of streams in the Smokies, but The Sinks are a notably gorgeous stretch in between Gatlinburg and the park. A short trail leads to this stretch of river where you can watch the water bubble, rush and roll over rocks and through pools. It's a great spot to stop and stretch your legs while enjoying the views.
When most people think of the Great Smoky Mountains, they usually just think of the mountains, but there are some interesting things hidden among the peaks and valleys...like a ghost town! It's called "Elkmont" and it's actually a historical district with abandoned cabins and the ruins of resort hotels, dotted throughout the town.
There are lots of chains and touristy spots in Gatlinburg, but Mountain Lodge Restaurant is where the locals go to eat a tasty, no-frills breakfast or lunch. Country ham, steak and gravy, and homemade blackberry cobbler and cinnamon rolls are staples here.
The Bud Ogle Cabin is an historic homestead that's a perfect example of the kind of cabins that dotted the Smokies in the 19th century, before the region was turned into a park. A cabin, tub mill and barn are still standing, and have been well-preserved with interpretive signs and tours. It's a peaceful, bucolic setting to learn a little bit about the history that has helped shape the culture of the region.
By now you're probably aware of all the restaurants in Gatlinburg, and most specialize in big, Southern meals served family style. But, if you want to keep it simple, head to Smoky Mountain Shakes N Dawgs, a local mom and pop joint. They mostly just do hot dogs and curly fries, but they offer loads of crazy toppings (they have a Reuben dog and a Philly Cheesesteak dog), fresh buns, and even a hot dog boiled in moonshine.
Camping is a great way to experience the Smoky Mountains! Whether you're in an RV or a tent, or you want to book one of Camp Leconte's luxury safari tents or treehouses, for a more "glampy" stay, this place can accommodate you. Seriously, if you're a novice camper, you'll love the adorably-decorated safari tents, which even come with porch swings.
The second you cross the Mason-Dixon line, you're in prime BBQ territory. Bennett's Pit Bar-B-Que has all the usual suspects: pork, chicken, and sausage. But the dark horse of the menu has to be the burger, it's got smoked brisket mixed into the patty, making it unlike any other burger you've ever had.
Oconaluftee Visitor Center is way more than just a visitor center, it's a full historical village and museum! Set right by the river, you can see lots of wildlife around, and if you check their calendar, you can stop by when they have a demonstration or event going on.
There are tons of waterfalls in the park, each more gorgeous than the last, but Mingo Falls are some of the park's best. They may not look it, but they're 120 feet tall, with stairs that lead up to a viewing platform. Other than the stairs, it's a pretty quick hike, and you can spend hours just soaking in the misty spray!
Clingman's Dome is the tallest mountain in the Smokies, and to make it even more impressive, it's got an observation tower built on its peak. The spiral ramp offers 360-degree views that extend up to 100 miles on a good day. If you're pressed for time, you can drive to the peak, and then take a quick, half-mile stroll to the tower.
The best time to visit the Great Smoky Mountains National Park: There's no bad time to visit the Smokies: summer brings great weather, and the park is still accessible in the winter, with the added bonuses of lesser crowds and snowy vistas. Fall is far and away the most popular time to visit, thanks to the incredible foliage, but it can get very crowded. Spring is a delightfully underrated time to visit, blooming wildflowers and mild weather make it perfect.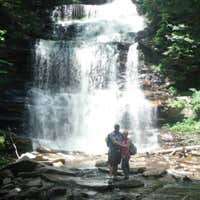 Adventurer. Exploring nature's beauty with my family.