Loads of Hollywood movies have chosen to film in the Peach State over the years, but three classics stand above the rest. When "Fried Green Tomatoes" was scouting locations for the iconic Whistle Stop Cafe, they chose the charming town of Juliette, Georgia. If you thought "Sweet Home Alabama" was filmed in Alabama, you'd be surprised to learn it was mostly shot in Georgia! And as a bonus, the cult comedy classic "My Cousin Vinny" was shot almost entirely in the state as well. These are a few of the most iconic filming locations for Georgia's most famous comedies.
The village of Crawfordville has that totally authentic, picturesque, small-town atmosphere that made the movie "Sweet Home Alabama" feel so real. Head to the courthouse or stroll down Main Street to see where the catfish festival scenes for the movie were filmed. Crawfordville doesn't actually have an annual catfish festival, but they do have fairs for holidays like Labor Day. While you're in town, check out the A.H. Stephens State Park and Historic Site, as well!
24 Veterans Memorial Hwy, Rome, GA, US
The Carmichael Plantation from "Sweet Home Alabama" is actually an estate known as Oak Hill, which is also home to the Martha Berry Museum. The stunning Greek Revival home was built between 1885 and 1899, and it definitely oozes stately Southern charm. You can get tickets for a tour of the property, or, if you want to re-enact the wedding scene in the movie, book it as a venue for a ceremony.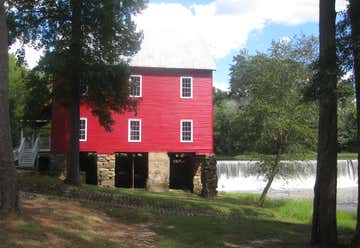 115 Waterfall Way, Fayetteville, GA, US
One of the most scenic "Sweet Home Alabama" filming locations has to be Starr's Mill, which served as the exterior of Luke's glass workshop. The current building at the day-use park is a mill that was built in 1907. It was a grist mill that also ran a cotton gin and helped provide power to the nearby town of Senoia. The mill itself is a popular spot for picnicking, fishing, and photography, so bring along a camera!
443 Mccrackin St, Juliette, GA, US
The 90s classic "Fried Green Tomatoes" is based on a novel called "Fried Green Tomatoes at the Whistle Stop Café." While Whistle Stop isn't a real town, the cafe is very much a real place. When location scouting for the movie, producers chose the little town of Juliette, Georgia to star as Whistle Stop, and remade an old hardware and antique store to use as the cafe. Once filming finished, Juliette locals decided to turn the old building into a real-life Whistle Stop Cafe. It serves up barbecue and, of course, fried green tomatoes, in a totally adorable setting that will make you feel like you've stepped back into Whistle Stop in the 1930s.
And if you're going to tour locations from iconic Southern comedies, you can't forget "My Cousin Vinny." The movie's central plot kicks into high gear after the two heroes shoplift a can of tuna from a convenience store called Sac-0-Suds, right before the shop's clerk is murdered.
Sac-O-Suds is a real place that was abandoned for a while, but reopened in 2014. It's mostly a bait and tackle shop these days, but if you're a fan of the movie, you'll definitely want to stop in: They have some movie memorabilia, and souvenir Sac-O-Suds tuna cans that you can buy (not steal) as a little memento. The courthouse, which was used for exterior shots of the spot where the trial took place, is a few miles away, in downtown Monticello.