Words (and even pictures) simply can't do Grand Canyon National Park justice, it's truly something you have to see to believe. Officially named a National Park in 1919, the Grand Canyon has stunned almost 5 million visitors ever since. The massive canyon was formed by erosion from the Colorado River after the plateau was lifted up by seismic activity, revealing rock that's over a billion years old. Whether you're just soaking up the sweeping views from the top, or hiking or riding a mule into its depths, it's one of America's most iconic parks for a reason.
The best time to visit the Grand Canyon: Spring and summer are easily the most busy times to visit the Grand Canyon, and summer means often-intense heat and afternoon thunderstorms. The North Rim closes in the winter, and it does occasionally snow here, but crowds thin out a bit. Fall is also a great time to visit, when the temperatures start to cool off, even though it might still be crowded.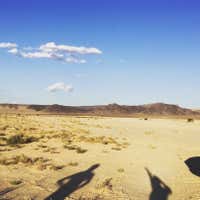 1 husband, 2 dogs, a million roads to venture.