If you ever have the chance to take an epic road trip across the United States, go in a heartbeat. You will be humbled by this country's vastness and awed by its beauty. It is mind-boggling that such incredible canyons, geysers, mountains, beaches, lakes, and forests could exist in a single landmass. This adventure will not only change your perception of the natural world, but also will open your eyes to the sheer cultural diversity of the U.S.
After many months of arduous planning and penny pinching, my wife and I embarked on a 40-day cross-country journey three days after my college graduation. On a budget of $7,000, we aimed to explore the nation's greatest attractions, natural wonders, and hidden gems.
Our trip began and ended in Columbus, Ohio, across the months of May and June, encompassing Chicago, Milwaukee, Minneapolis, the Badlands, Mount Rushmore, Grand Teton, Yellowstone, Seattle, Olympic, Crater Lake, Portland, the Redwoods, San Francisco, Los Angeles, Las Vegas, the Grand Canyon, Mesa Verde, the Great Sand Dunes, Denver, the Rockies, Kansas City, and St. Louis, among others.
Due to the trip's enormity, this guide will be split into three parts. We enjoyed alternating between the serenity of national parks and the hustle and bustle of the big cities. The majority of our lodgings were Airbnbs, from a farm house in rural Wisconsin to a luxury home overlooking the wine country of California. Airbnbs allow you to hear the stories of locals and better understand the character of a particular place, in addition to offering unique views and breakfasts.
Here are a few general tips: + Buy a National Park Service annual pass (you only need one per vehicle, and it'll save you a lot of money in the long run) + Buy an external charger for your phone for lengthy hikes and city visits + Make music playlists for each city or state to liven up the drive, and get a car adapter for your music player + Pack bug spray or wipes + Wear sunscreen + Don't skimp on pictures, videos, and souvenirs; memories are priceless, and the human memory is limited
Our itinerary for the first 12 days of the trip: Day 1 - Chicago Day 2 - Milwaukee Day 3 - Minneapolis Day 4 - South Dakota and the Badlands Day 5 - Mount Rushmore and the Black Hills Day 6 - Wyoming Day 7 - Grand Teton/Yellowstone Day 8 - Yellowstone/Montana Day 9 - Washington State Day 10 - Seattle Day 11 - Seattle Day 12 - Olympic National Park
Millennium Park is a sculpture garden and entertainment center in the heart of Chicago, most famous for its imposing Cloud Gate, a giant reflective bean. Children love to play beneath Crown Fountain, a wall that displays the faces of Chicagoans who spit water from their lips if you wait long enough. You'll also see the Jay Pritzker Pavilion, where numerous events are hosted throughout the year.
The park features an outdoor dining venue, but there are plenty of other restaurants in the surrounding area to choose from. Parking in the nearby Millennium Lakeside Garage is a $20 flat rate for twelve hours, so it is easier to stay parked in one location while visiting the rest of the city.
Millennium Park's next-door neighbor is The Art Institute of Chicago, one of the best art museums in the country. The park is actually part of a network of green spaces, which includes Grant Park, home of the Buckingham Fountain.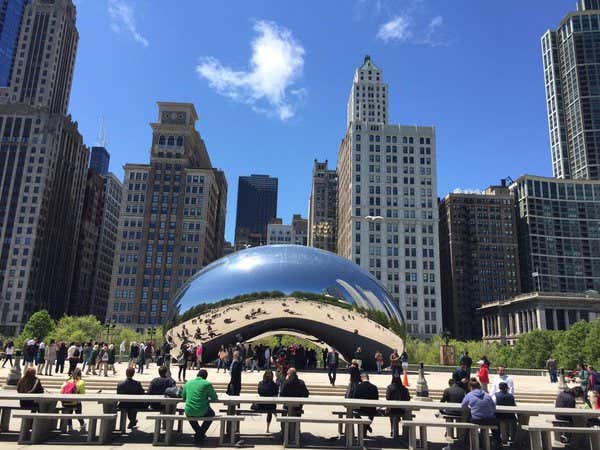 For free tours of Millennium Park and other areas of the city, contact the Chicago Greeter program, and they will be happy to arrange a two-to-four-hour guided tour with their volunteers. For customized tours, you must register 10 business days in advance, but there are drop-in tour times as well.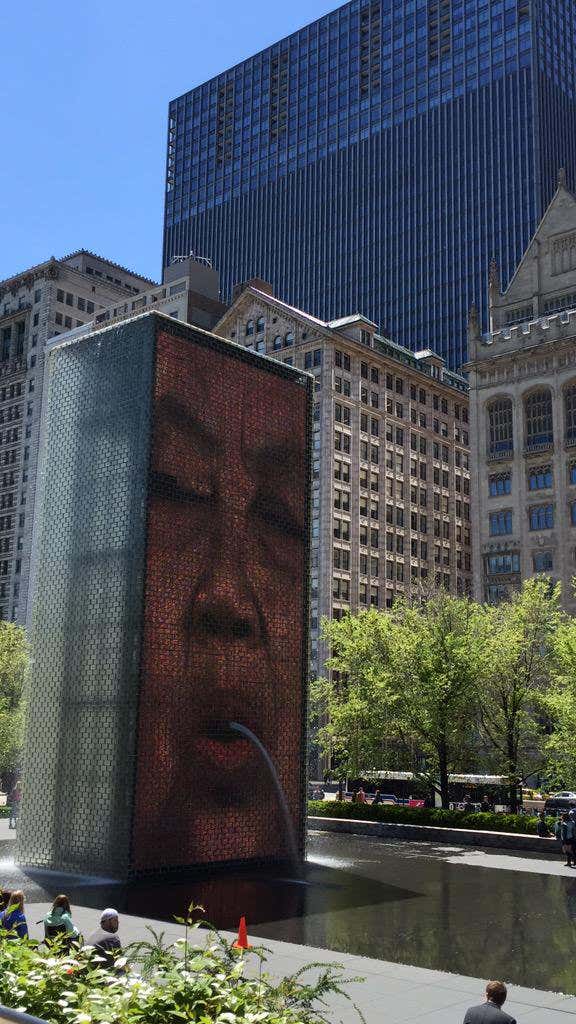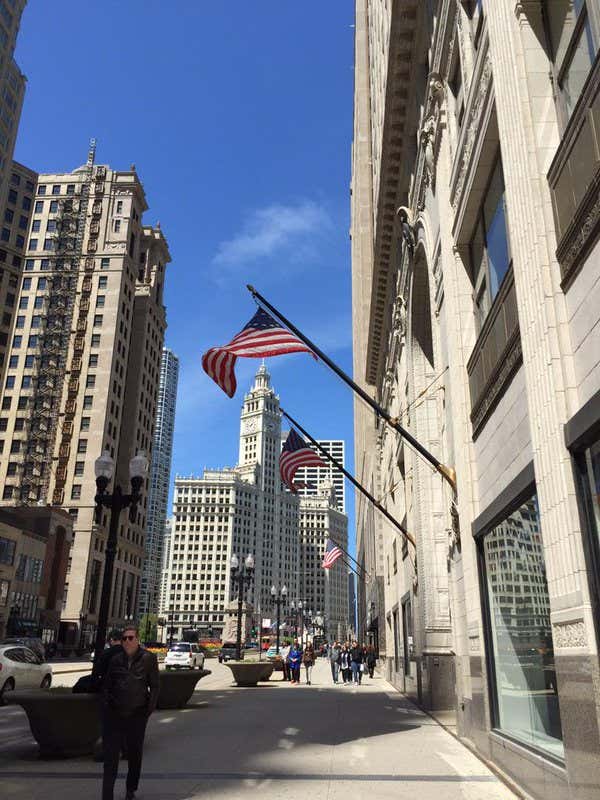 If you walk north along Michigan Avenue from Millennium Park, you'll find yourself on the Magnificent Mile, Chicago's largest upscale dining and shopping district. This area of the city is highly walkable and decorated with thousands of flowerbeds in the springtime.
The distinctive Wrigley Building clock tower was once the headquarters of the Wrigley Gum company and has since been named a Chicago landmark. Further down the Miracle Mile is another famous landmark, the Chicago Water Tower, the second-oldest water tower in the United States. It now serves as a small art gallery for the Chicago Office of Tourism.
875 N Michigan Ave, Chicago, IL, US
There are two main observation decks in Chicago: the Skydeck in Willis Tower and 360 Chicago in the John Hancock building. Each has its pros and cons, but we chose 360 Chicago because of the views of the Lake Michigan shore. Plus, 360 Chicago has the fastest elevators in North America, scaling 1,000 feet in 40 seconds. For a little extra, you can ride the TILT, a glass wall that extends out and over the skyline.
The walk from Millennium Park to 360 Chicago takes approximately half an hour, but walking will allow you to explore the Miracle Mile and save you the hassle of re-parking.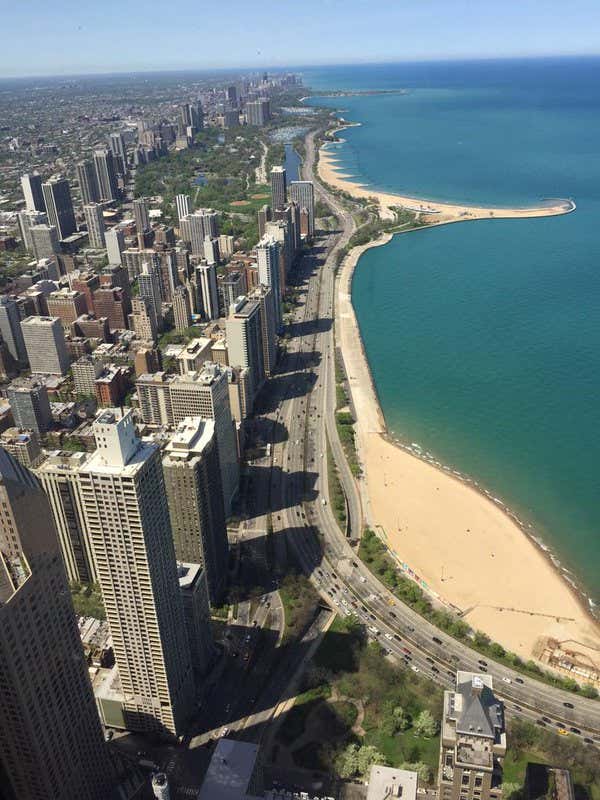 730 N Rush St, Chicago, IL, US
Giordano's is a pizzeria chain that prides itself on serving up three-pound Chicago-style stuffed pizzas (it's not technically deep dish, as one might assume). With a thick crust, oozy cheese, and sauce slathered on top, this pizza is sure to make you regret your life decisions with a smile on your face. Keep in mind that these fat babies take about 45 minutes to bake.
For a true deep-dish experience, most Chicago natives recommend Lou Malnati's, which has several locations throughout the city.
400 N Michigan Ave, Chicago, IL, US
If there's anything you MUST do in Chicago, it's the Wendella Signature Lake and River Tour or Sunset Tour. Choose a tour time 30 minutes before sunset so you can see Chicago at every time of day. You'll see the buildings sparkle in the sunlight, then turn to silhouettes in the pastel hues of the setting sun, and finally the city lights will ignite as you return along the path from whence you came.
During the tour, you'll also learn tidbits about the architecture and history of Chicago, and the guides are happy to answer any questions you may have. The river's path is narrow, so the skyscrapers will seem to rise above you like a forest of trees.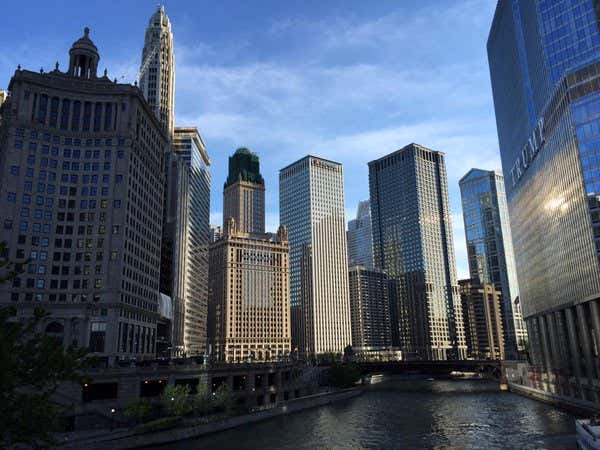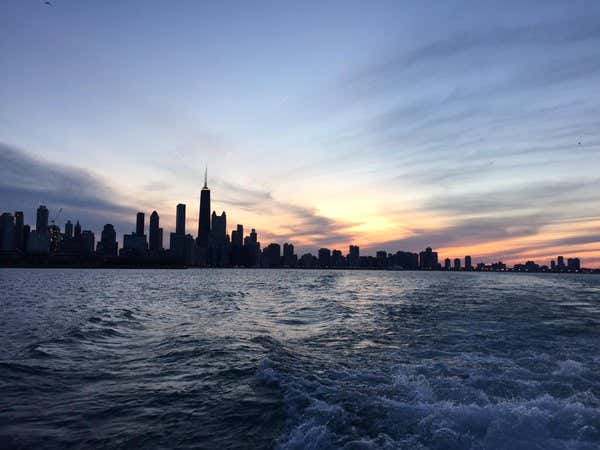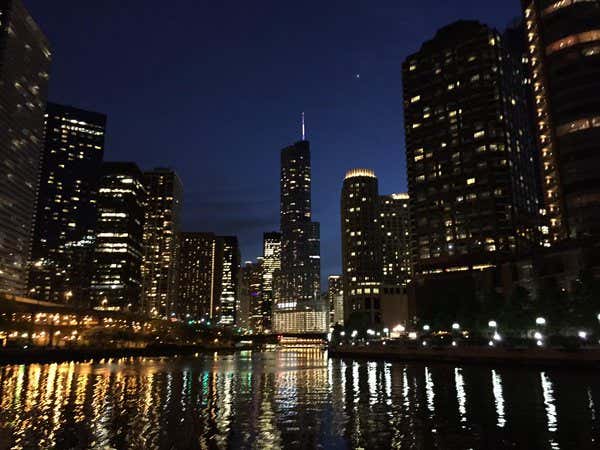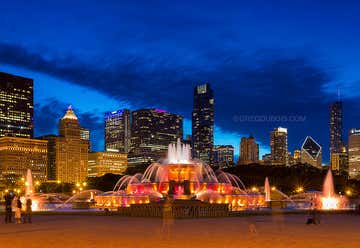 301 S. Columbus Dr, Chicago, IL, US
Yet another Chicago landmark is the Buckingham Fountain in Grant Park, which is one of the world's largest fountains. Its style is described as a "rococo wedding cake" and was inspired by the Latona Fountain in France. The fountain is meant to symbolize Lake Michigan, with the four seahorse statues surrounding it representing Illinois, Wisconsin, Michigan, and Indiana. Every evening from April to October, you can enjoy a fountain light show.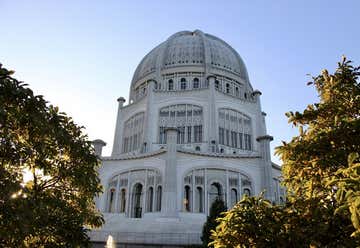 100 Linden Ave, Wilmette, IL, US
On your way from Chicago to Milwaukee, you might pass by an eye-catching architectural wonder. This stunning white building is a Bahá'í House of Worship, and there are only seven of its kind in the world. The sole U.S. location is in Wilmette, Illinois.
Founded in nineteenth-century Persia, the Bahá'í faith values the unity of humanity. The doors of its houses are open to all, regardless of religious beliefs, so feel free to step inside.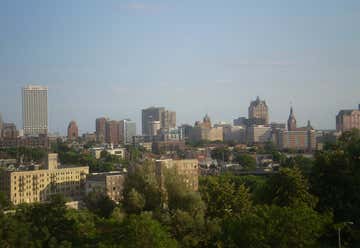 2300 N Bremen St, Milwaukee, WI, US
For a place to stretch your legs and get a decent view of Milwaukee, Kilbourn Park is a convenient stop. Lakeshore State Park further south is another popular spot for skyline views and walking trails along the shoreline.
5373 N Port Washington Rd, Glendale, WI, US
If you're looking for a local fast-food eatery, look no further than Kopp's, a Milwaukee burger and custard chain.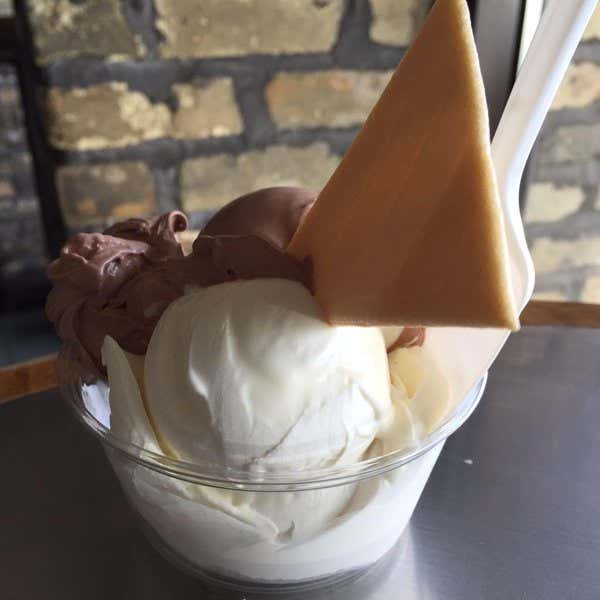 839 N 11th St, Milwaukee, WI, US
The Chudnow Museum of Yesteryear is a charming and comprehensive museum of Milwaukee history. It's a small place, but each room is artfully decorated with twentieth-century antiques. The guided-tour experience with the enthusiastic volunteers and owners is what makes this visit worthwhile. In the gift shop, items are priced as they were decades ago. You can buy a magnet for 50 cents and a glass bottle of Green River soda for a dollar (it tastes like green freeze pops).
The Chudnow is well worth the meager $5.00 admission price because of its dedicated staff and the care that goes into the creation of the exhibits. Check their website for more discounts; they have reduced prices for different groups.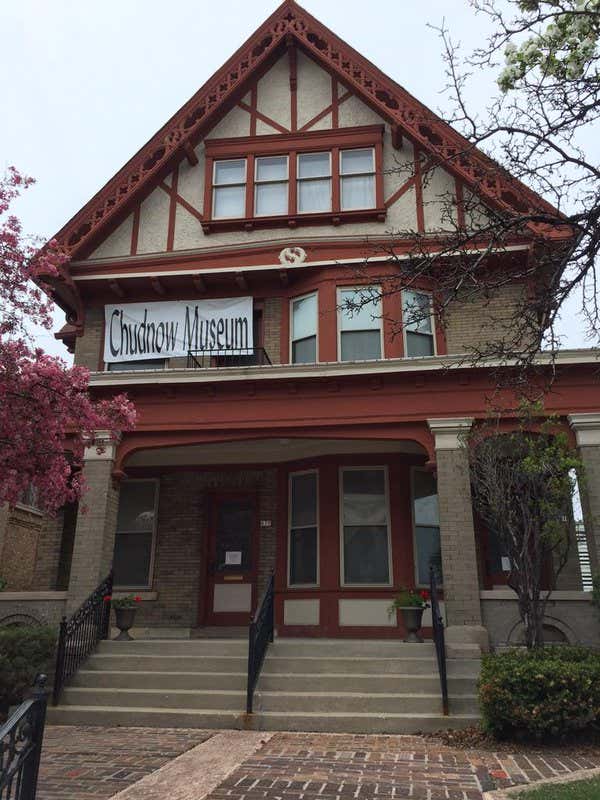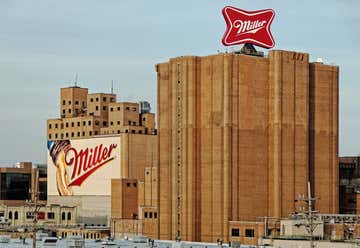 4251 W State St, Milwaukee, WI, US
There are plenty of brewery tours in Brew City other than the one around MillerCoors, but this one is FREE. The tour lasts about an hour, and you'll see different parts of the factory floor as well as the old cellars. At the end, there are generous beer samples, and soda is available upon request.
126 Hwy 128, Wilson, WI, US
It would be a shame to pass through Wisconsin without sampling the state's finest delicacy—cheeeeese. While Cady Cheese Factory does not have a guided tour, you can look through the factory window to watch jiggling vats of cheese and read about how it's made. Stop by the gift shop for some free samples, including their famous squeaky cheddar cheese curds.
This first leg of the trip might seem a bit rushed, but we were intent on spending most of our time in California. You easily could spend weeks exploring the northern expanse of the United States, especially if you're interested in intensive hiking and camping.
In addition, we would have loved to visit the Going-to-the-Sun Road in Glacier National Park, but alas, late May is not the ideal time to visit, because the roads are still closed due to snow. That will be a trip for another time.
See The Road Trip Across America Part Two: The West Coast for the next installment of this cross-country adventure at http://tinyurl.com/z4484lo.
BONUS: our trip around the coast of Florida: http://tinyurl.com/j3an9te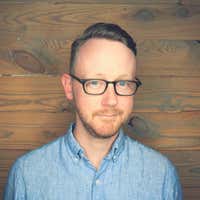 Husband, Father, Time Traveler, Roadtripper. "Life begins at the end of your comfort zone."