Pokemon Go is inescapable at this point. No matter where you live, or where you're going on vacation this summer, you're gonna pass more than a few Pokestops and gyms along the way. So why not work on your game in the most badass places in the U.S.? We did a little internetting to find which of America's most scenic spots are also poppin' with Pokestops. Go forth and catch them all!
P.S. If you're gonna be a butthead about people playing Pokemon Go, just stay home.
Niagara Falls is a great place for a huge variety of Pokemon. With plenty of urban areas, water, and green parks in a small area, you'll find plenty of different types to catch. There are tons of trails that offer nice scenery to enjoy while you hunt for your next big catch. There's a gym on Green Island, and another near the Nikola Tesla monument, and Pokestops all over Cave of the Winds. And, best of all, Niagara Falls State Park has free wifi!
Parks are great for Pokemon hunting, and Savannah's Forsyth Park is no exception. Pokestops and gyms are abundant, so you don't have to worry about running low on supplies while you do your thing, and the park offers lots of benches so you can sit down and take a break from all of your walking. Plus, parks are a natural gathering spot for groups of players, so its easy to find and socialize with fellow team members. Hit the Pokestop on the fountain while you cool off, and then head to the gym here to take down some punks.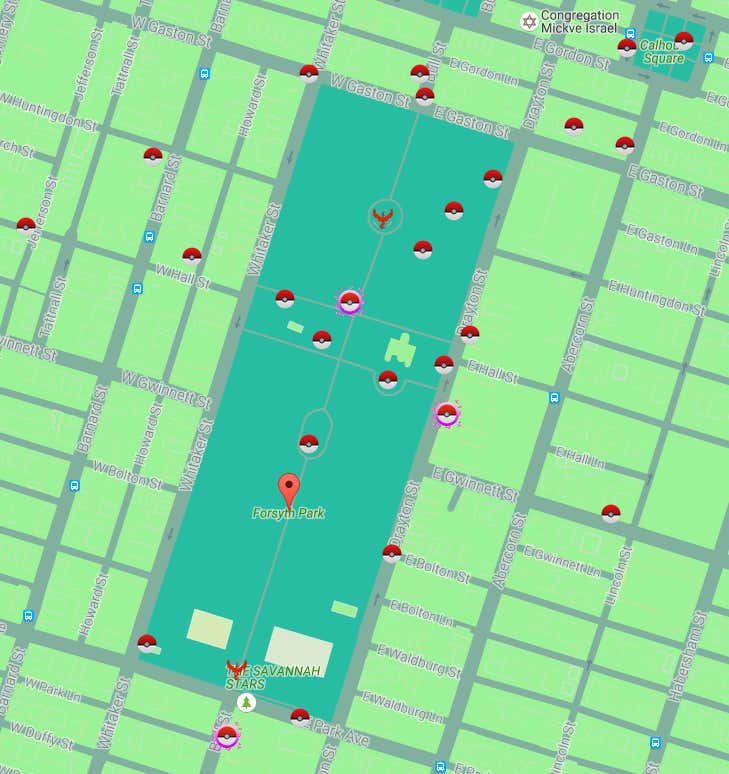 The beach is a great place to catch loads of powerful water-type Pokemon. Clearwater Beach is a Pokemon hotspot, with a few Pokestops at Pier 60 Park, the aquarium, and more lining the main strip of the resort town. The coolest Pokestop is out on Pier 60, offering killer views and, if you set up a lure, loads of Pokemon.
Smaller cities with tons of landmarks, like Tucumcari, NM, mean lots of Pokestops and gyms, and not a ton of competition. You can hold one of the 10 gyms in town easier since it's a little off-the-beaten-path. If you're traveling along Old Route 66, Tucumcari is prime for Pokemon Go, with loads of Pokestops and cool retro signage. And if you happen to be following a Pokemon or hitting a Pokestop, don't forget to check out and support the local businesses, restaurants and hotels here as well.
While you take in the views of this monument, keep your eyes peeled for Pokemon. As you stroll around taking in the different views here on the loop from the visitor center and back, you can be on the lookout for some Pokemon to add to your stash as well... there are a few Pokestops along the way, plus a gym right in front of the memorial. Pro tip: Carvers Cafe has a Pokestop right nearby!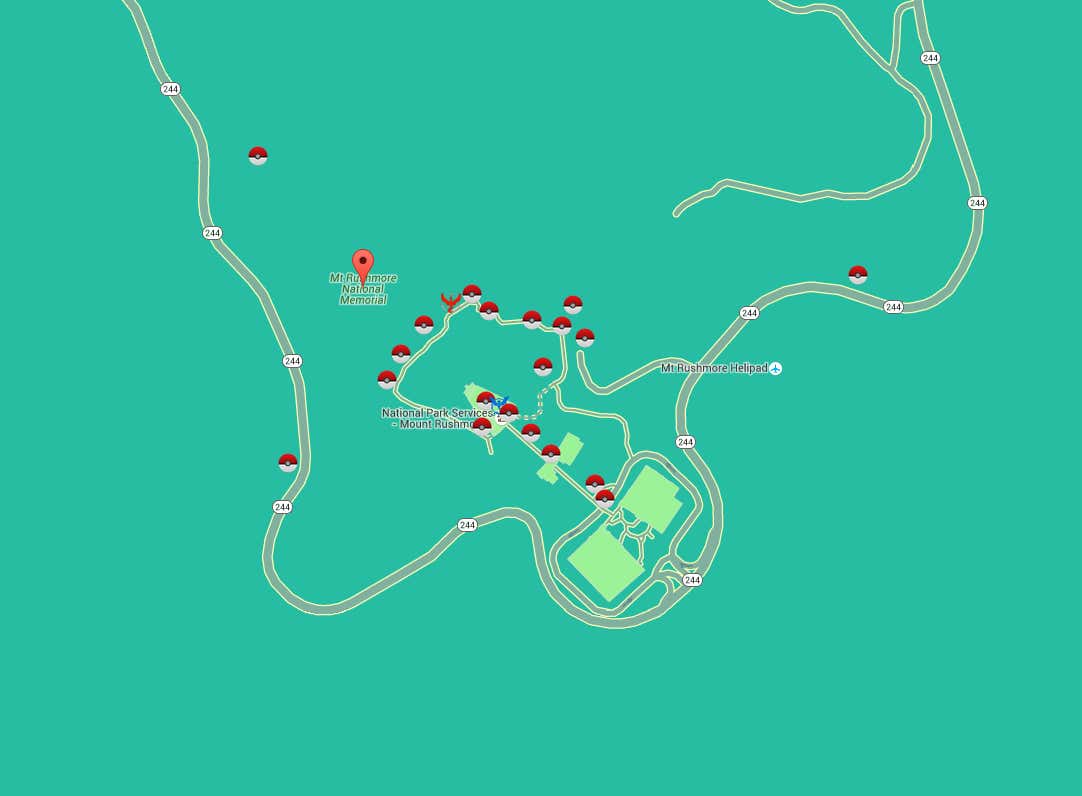 Cell service might be tricky in some National Parks, but sticking near major attractions like Grand Prismatic and especially Old Faithful are a good bet for picking up on service and finding Pokemon. In fact, the Old Faithful Lodge Cafeteria alone has two Pokestops, the Lake Yellowstone Hotel Dining Room has a gym and a Pokestop, and Upper Geyser Basin is dotted with loads of Pokestops as well.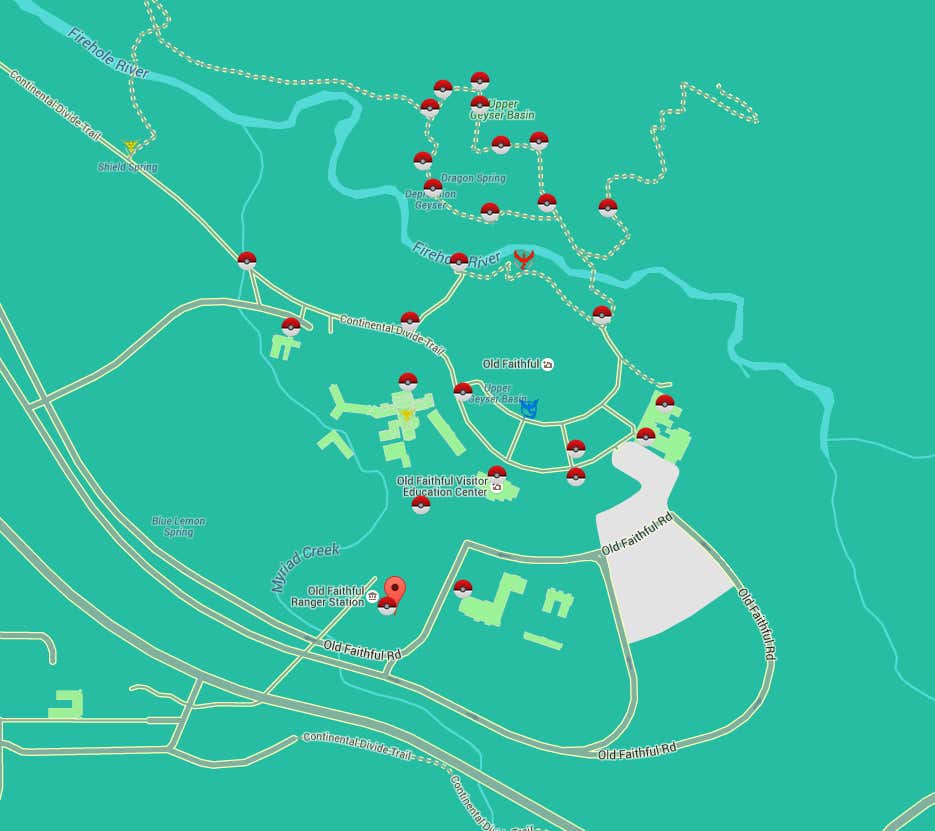 The National Parks Service is actually super down with Pokemon. As long as you stick to the trails, use common sense and good manners, and stay aware of your surroundings, you should have pretty good time playing in Arches. Plus, National Parks are rich in monuments where Pokestops can be placed, so if you happen to be out in Utah, parks are a good bet. You can find a gym at the visitor center, one at the Park Avenue Trailhead, and stops along the scenic drive and several hikes.
Zion is another great park for Pokemon hunting. Expect to find tons of hefty rock- and ground-type Pokemon here in the desert landscape, as well as land-dwelling water-types along the river. The Lodge is a great place to relax and take advantage of two Pokestops, and Floor of the Valley Road is a great drive to hit tons of other Pokestops.
Pro tip: there's a Pokestop at the top of Angels Landing, the most incredible hike in the park. Taking breaks to catch Pokemon are great for quick breathers along the steep hike... but be very careful and stay super aware of your surroundings.
You should be surrounded by other Pokemon Go players at the Grand Canyon, so be prepared for intense gym battles and some socializing. Entertain yourself as you drive (or take a shuttle) between Bright Angel and Yavapai Point with the two dozen or so Pokestops and several gyms along the way.
The coolest gym in the country has to be the one dead center atop the Hoover Dam. There are other gyms on Hoover Dam Access Road and Kingman Wash Access Road as well, and plenty of Pokestops where you can reload your bag with potions and revives. Grab a meal at the High Scaler Cafe and hit the Pokestop there as many times as you can while you eat.
Wherever you're traveling, and whatever your reason for going (even if it's just to mine a park's Pokestops) it's about exploration and discovery... and getting as much XP (in the game and in life, man) as humanly possible.
Just a Civil War beard enthusiast, writer at Roadtrippers, and aspiring astronaut reaching for the stars.