Yellowstone may be world-famous now, but back in the early 19th century, the first American to discover it was written off a as a madman. John Colter was a former explorer with Lewis and Clark, and the world couldn't believe that the hot springs and geysers he claimed to have seen on his way back from the expedition were real. It actually took 50 years for an organized expedition to fully explore the area, and they were certainly stunned to find that the legends of fire and brimstone were true. In 1872, it was protected as the America's first National Park. Every inch of this natural wonderland is worth exploring, from its geysers and hot springs to its canyons and forests.
Rancho Cordova, California, United States
Stateline, Nevada, United States
Austin, Nevada, United States
Shoshone, Idaho, United States
Richfield, Idaho, United States
Arco, Idaho, United States
Blackfoot, Idaho, United States
538 Madison Ave, West Yellowstone, MT, US
Rustic ambiance and a menu of old-school staples make Running Bear Pancake House a solid place to get a hearty breakfast before venturing out into the park. They offer omelettes, bacon, hash browns, biscuits and gravy and more. But, you'd be crazy to not try their signature pancakes. They're great in 'cinnamon roll' pancake form, or topped with berry syrup.
Yellowstone National Park, WY, US
Inside the park, your main options for dining are inside the lodges. The Old Faithful Inn has one of the coolest, most historic-looking dining rooms, but the menu is far from old-school and stuffy. They offer vegan options alongside wild game, and a buffet as well. TIP: Try the spaghetti and bison meatballs.
Grand Prismatic Spring is the largest hot spring in America. At nearly 400 feet wide and over 100 feet deep, Grand Prismatic's size is certainly impressive...but it's the rainbow coloring that really make this spring stunning. Various bacteria around the outside edges of the pool cause the striking effect. This is what bucket lists were made for.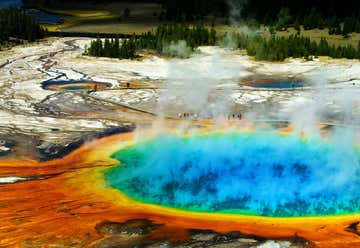 Grand Loop Rd, Mammoth, WY, US
Tips for visiting Yellowstone: -Book campsites and hotels as far in advance as possible, especially if you're planning a trip in the summer. As one of the largest and most famous parks, things can get a little crowded, and since it's not near any major cities, campsites and hotel rooms can get booked up. -Cell phone service is only available in about 50% of the park, and wifi can be hard to come by, plus it'll probably cost you a pretty penny. Keep the fact that you might be incommunicado for part of your trip in mind while planning! -There are tons of scenic drives in and around the park that are great for exploring and taking in the sights, but if you're inside Yellowstone, be aware of the 45MPH speed limit, and watch out for stray bison!
Yellow Stone National Park, Mammoth, WY, US
One of the park's most iconic features, Old Faithful is a geyser that launches boiling hot water over 100 feet into the air several times a day. The amount of time in between eruptions varies, but the NPS is good about posting predicted times in most buildings, but it usually happens about 17 times a day, so you have plenty of chances to see it happen. It can get crowded, so get there early for a good spot.
Grand Loop Rd, Yellowstone National Park, Wyoming United States
Mammoth Hot Springs is a great example of hot-spring-formed travertine terraces, and makes for quite an interesting hike. The steam, bubbling water, dead trees, and pigmented Earth make for an otherworldly landscape. Stay on the trails, because you definitely don't want to fall into a pit of burning mud.
Morning Glory is a hot spring that's famous for its unusual colors, caused by bacteria that inhabit the water. However, over the years, it's changed colors thanks to vandalism and pollution, it used to be almost entirely blue. It's still one of the park's most unusually beautiful features, though.
The Black Pool is actually a really beautiful shade of blue. It actually used to look black, but environmental changes caused the pool to heat up and kill off a lot of the bacteria that made it appear so dark. It makes for a beautiful photo op, either early in the morning or just before sunset.
The coolest features of Yellowstone aren't all geothermal, and the imposing waterfall in the Grand Canyon of the Yellowstone is a great example of this. The Yellowstone River tumbles down two waterfalls in this 24-mile-long canyon that at points is nearly a mile wide. It's an incredibly popular wonder to photograph. TIP: Head to Inspiration Point for a gorgeous photo of the canyon in all its glory.
If you're excited about seeing some wildlife while in Yellowstone, then cruise around the scenic Lamar Valley. Wolves, elk, moose, and thundering herds of bison roam here. Drive slow, bring binoculars, and try to keep your distance!
Only a small portion of the park is located in Montana, but it's worth heading to the North Entrance for a dip in the Boiling River, a hot spring that you can actually bathe in. The hot, mineral-rich water mixes with the river to create the perfect temperature for a dip, so bring your swimsuit and relax in one of the stone pools.
The best time of year to visit Yellowstone National Park: There's really no bad time to visit Yellowstone. During the winter, some roads and lodges close, but the park is no less beautiful covered in snow, and it's nice to kind of have the place to yourself. Spring and fall mean beautiful colors, and summer is, of course, always incredibly popular. But, if you plan to visit between May and September, make sure to plan and book everything well in advance.