Regardless of how old you are, there's something about spending an afternoon in a tree that just seems perfect. Poets, artists, songwriters, novelists and filmmakers continue to find inspiration in these arboreal beauties. So, to celebrate spring, we've compiled a list of America's most awe-inspiring trees. From Charleston's Angel Oak to California's enchanted candelabra redwoods, here are 7 beautiful, amazing, and simply cool trees that defy belief. And just look pretty damn cool.
"I think that I shall never see A poem lovely as a tree." -Joyce Kilmer
Angel Oak Tree in South Carolina is believed to be over 1,500 years old! It's a symbol of Charleston's strong and enduring spirit. Its longest branch measures 187 feet from tip to tip.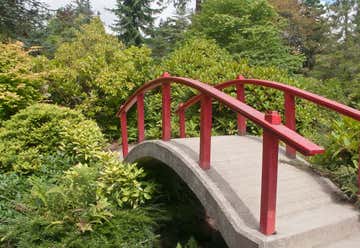 9817 55th Ave S, Seattle, WA, US
To round out our favorite cool trees, I present Seattle's epic Japanese fire-tree. Okay, it's not really on fire. It's actually a Japanese maple, but it's one of Washington's most photographed trees.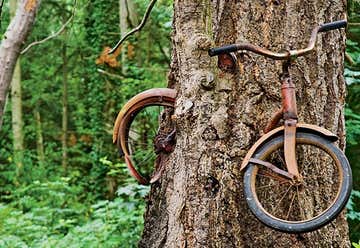 20312 Vashon Hwy SW, Vashon, WA, US
Speaking of odd trees, here's one that ate a bike! The story is actually pretty sweet. In 1954 a recently-widowed woman gave her son a bicycle. However, it was a girl's bike and the boy was too embarrassed to ride it. So he brought the bike into the woods and left it against a tree. He told his mother he lost it, and all was forgotten. Over the years the tree has grown around the bike, which is now 5ft high.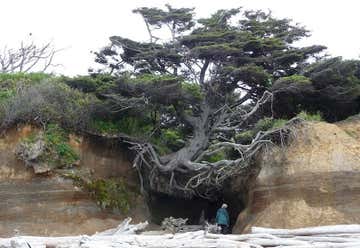 Along the Olympic Peninsula, on a secluded beach in Kalaloch, WA there's a tree with no name. I call it "Tree Root Cave." (Real creative, I know.) This weird tree just won't quit, even after erosion took away the sand dune it was perched on, it's still hanging on for dear life.
67402 Drive-Thru Tree Rd., Leggett, CA, US
So, you heard the one about the tree that swallowed a bike? Well, what about the cool tree you can drive through? California's Drive-Through Chandelier tree is a coastal redwood that's over 300 feet high, and 6 feet wide. It's showcased in the opening titles of National Lampoon's Vacation.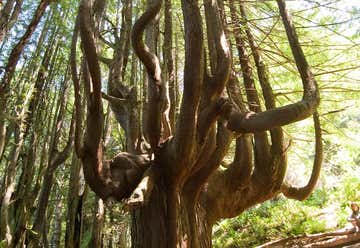 Located deep in California's Lost Coast, a redwood grove defies belief. Known to locals as the "Enchanted Forest", these gnarly candelabra trees have so much to teach scientists. "We know that these gnarly branches and these strangely shaped trees create needed habitat for wildlife," said Emily Burns, PhD, the League's Director of Science. "We have a lot to learn from these trees. Their development offers clues into how the environment shapes redwood forests."
Hyperion tree is one of the world's tallest trees. It's so incredible that its exact location is hidden. But, for those adventurous types out there…it's located somewhere in California's Redwood National Park.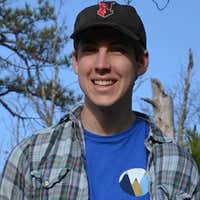 Life's an adventure. Live it.