A National Park whose claim to fame is lots of really tall mountains can seem intimidating to those who are less experienced in hiking and climbing, but Rocky Mountain National Park truly is a can't-miss park. From the lush green forests to the eternally-snowcapped mountain peaks, you'll see rugged wilderness beauty like nowhere else in America! These are the best places to get that Rocky Mountain High while staying a little off-the-beaten-hiking-trail.
Glaciers cover some of the park's many peaks, which make for some pretty stunning snowcapped mountain tops! One, called Tyndall Glacier, was named for the mountaineer/scientist who identified carbon dioxide as the heat-trapping greenhouse gas that's contributing to global warming-- and ironically enough, the glacier that bears his name is shrinking and melting away.
In 1917, before women even had the right to vote, Rocky Mountain National Park licensed the first-ever female nature guides, sisters Esther and Elizabeth Burnell. The college-educated sibs fell in love with the park after a summer-long stay, and Esther eventually bought an estate nearby, even living there during the harsh winters. Esther, like the total badass she was, once even snowshoed 30 miles across the continental divide. The park's superintendent gave them permission to be guides after they passed the required tests, and despite his attempts to keep the girls only leading day hikes away from the mountains, Elizabeth became the first woman guide to head up Longs Peak, the park's most prominent mountain summit.
Trail Ridge Road is the most famous scenic route in the park, but with 265,761 acres of breathtaking beauty, it's far from the only one.
It's no surprise that the Never Summer Mountains are perennially covered in snow, which is frequently deep, even in July and August... but what is surprising is the fact that there are multiple ghost towns and abandoned settlements to explore in this range. A lot of mining was done in the Never Summers in the late 19th century, and towns like Lulu City and Dutchtown popped up... but the mining boom ended very soon after (thanks to the poor quality ore and the special challenges presented from building your mine way high up in the mountains). The spooky remains are still visible along the trails that crisscross the range.
If your idea of ideal lodging involves a tent and not much else, Rocky Mountain National Park has camping a-plenty-- Long Draw Campground offers especially stunning views.
Fall River Road and Bear Lake Road are two other beautiful routes worth a cruise. Fall River was the first automobile road through the park, and even though a flood closed it in 2013, it's finally expected to reopen in July of 2015. Since Trail Ridge generally opens up (after being closed for the winter) in late May, Bear Lake is a good bet. If hiking isn't your scene (or even if it is, to be honest) then roll down your windows and take a cruise along the roads for the best views of Rocky Mountain National Park!
Another famous ice mass is Rowe Glacier, which was the first glacier ever discovered in the state of Colorado.
It doesn't get any more "hidden gem" than a place called Hidden Valley! This gentle slope is the one hill where sledding is allowed in the park-- it's blocked off so snowshoers and snowboarders won't get in the way of the sledders. It may not be steep (it's actually the bottom of the bunny slope of an old ski resort) but it's got some distance to it, and it's easy enough to walk back up. Plus, they've got restrooms and a warming area... you know how kids get when they're bundled up in snow gear!
Fan of The Shining? The Stanley Hotel in nearby Estes Park is what inspired Stephen King to write his infamous novel, made even more famous by Kubrick's film adaptation. If you stay at the iconic lodge, be sure to tune your TV into channel 42-- they play the uncut version of the movie on a continuous loop 24/7. It's not just known for inspiring creepy movies either... it was used in Dumb and Dumber as well!
If you're looking for something a little more rustic, the Historic Crags Lodge was founded by Joe Mills, who helped get the Rockies National Park Status.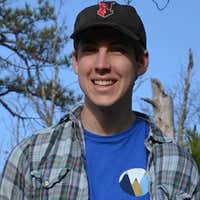 Life's an adventure. Live it.