Just an hour east of San Diego in the Cuyamaca mountains lies a sleepy old mining town that is as rich in history as it is in land. Julian was founded in early 1869 after a gold strike but it was later that year when travelers searching for work and passing through that the town was established. Now it's come to be known as a retreat for those looking to get away from the busy San Diego city life and the only place to get the freshest baked apple pie.
There are some speculations about how gold was discovered in Julian but one thing that is certain, it was the search for gold that made its early founders, Drury Bailey and Mike Julian, discover how miraculously productive the soil was and while most mining towns were becoming ghost towns by the late 1800's, Julian became a community. The settlers who came to find gold ended up staying because of apples and the close-knitted friendships they developed through them.
Not much has changed as there's still a sense of an early Californian pioneer town with a lot of the original store fronts still in tack, historic sites and guided tours. In fact, the entire township of Julian is designated a Historical District.
Famous for its over twenty-one varieties of multi award winning apples, Julian bakes over 10,000 apple pies a week during harvest time in October and produces a good portion of apples for the country.
Because it's still stuck in simpler times and protects the land that's helped keep the town in operation, it has become a center for hikers as well and boasts some of the regions most exquisite hiking trails nestled in between canyons and forest.
But perhaps what also makes Julian unique for southern California is it's four seasons, needed for the success of agriculture but also serving as an escape for San Diegans who want to see the fall leaves change or feel the chill of winter's snow.
I found Julian after a suggestion from a friend while looking for good road to ride on my motorcycle. On the map the curves and mountains on Highway 78 called out to me but I knew very little about the area.
2225 Main St, Julian, CA, US
The road out was as magical as I hoped and crossed over a few different types of terrains including cattle ranches, citrus groves, lakes, canyons and wineries. It was simple yet beautiful and preparing me for the step back in time I was about to embark on. The curves were moderate and the pull offs were in perfect locations beckoning you to stop to look out over the valley.
Julian sneaks up on you. First, you see a few buildings advertising Cider and then, before you know it, you're right on Main street in the heart of town. It's hard not to feel a sense of nostalgia when first arriving in here.
Even though the town is small (population around 500 people) it doesn't lack in things to do. Since I only had two days and one night I dove right into being a tourist.
Farmer Rd & A St, Julian, CA, US
The first thing I had to do was have a slice of fresh baked apple pie but choosing which place to do so was the hardest part since literally every place serves it. Even the local bookstore had samplings of apple fritters. I decided on a place called The Julian Pie Company, that seemed to make pies their only business. I thought choosing a place to have pie was hard but walking in and seeing the options of endless varieties of pies was even harder. I don't even have a sweet tooth, but every one of them looked so good and I had a desire to try them all. I finally decided on the mountain berry, a mix of apple, blueberry and strawberry with a Dutch crumble topping and a side of vanilla ice cream. The place is quaint and easy to miss as it's tucked behind trees but that makes it all the more appealing.
Behind the KQ Campground on Highway 79, Julian, CA, US
Since I knew very little about the town, the next place to stop would be the Julian Pioneer Museum. Built in 1888, the museum houses the history of how Julian came to be as well as an amazing array of artifacts depicting the life of it's early settlers. It's only a three dollar donation and a must if you want to know what it was like during the early gold rush pioneer days.
2032 Main St, Julian, CA, US
The sun was starting to sink and staying true to it's small town nature, most places in Julian close early. I headed back into town and grabbed a snack and room at the oldest operating hotel in southern California, The Julian Hotel, founded in 1897. Again, this was like stepping back in time with its antique furniture and no TV's. Guests can choose their rooms from what's available and breakfast is served in the morning while complimentary tea is served in the afternoon. This is truly a relaxing retreat or a perfect romantic get away.
2112 Main St., Julian, CA, US
After my history lesson, I headed south on highway 79 to the California Wolf Center for a chance to see Mexican grey wolves. I called ahead for reservations as the hours for tours are limited. The dirt road up to the center was a little rough and rugged and the promise of seeing the wolves is not a guarantee which, unfortunately, I did not see any. Still, I felt my admission price went to good use as it helps take care of these once almost extinct animals.
2230 Main St, Julian, CA, US
The next morning, I decided to skip breakfast and head over to Julian Café & Bakery for coffee, biscuits and gravy and more pie. The wooden storefront called to me and the sign that read "Built in 1872 Burned 1957 and Restored 1972" meant this place had a story and places with stories usually have the best cups of coffee. I was right. It's a little on the pricy side but worth it. If it's southern comfort food covered in gravy you are looking for, then this is the spot for you. Being that I was raised in Kentucky, I can be a harsh critic when it comes to things smothered in gravy.
Farmer Rd & A St, Julian, CA, US
Before heading out, I stopped by the Old Julian Book House on the hunt for rare and first editions. While they did have a few of those, they also had a great selection of books covering the history of Julian and surrounding areas. It was a small store but a place you could get lost in. The owner was the kindest lady, that suggested before I left town to stop by the Julian Pioneer Cemetery right across the road.
2320 C Street, Julian, CA, US
On a hill overlooking the town is the quietest place in Julian with as much history as the museum I had visited the day before. If you lived and died in Julian, this is where you ended up and it was a beautiful place to be. A little eerie, with the winding deteriorating concrete stairway to reach it and the overgrown mossy trees but that all adds to the magic of the land. With headstones dating back to the early 1800's and graves decorated according to the deceased personality, it is one of the most unique and serene cemeteries in California I have visited.
4470 California 79, Julian, CA, US
After my stroll through the cemetery, I had a short ride to the dusty dirt road that led to Eagle Mining Company. I arrived a few minutes before my tour and I'm glad I did because the grounds outside look as if they haven't changed in about a century or so and I wanted to explore. Very old rusted out cars sat outside the walls of the gift shop, and more assorted decrepit equipment of all sorts sat along the walls of the aged warehouse. It makes you wonder what lies inside the cave if the outside is this interesting.
The gentleman who lead the tour was extremely nice, very informative and an excellent storyteller who speaks about the mine firsthand because his grandfather owned and operated it. It was a history lesson about gold mining in 1870-1930, how it changed over the years, how to pan for gold, and about the metal itself. It's easy to get caught up in Apple Pie and Antiques, what the region is known for today, but this is where and how it all started.
You will be led on a tour through the mineshaft, taught how to search for a vein of gold, and you will learn just how hard the pre-industrialization work used to be. This was the highlight of the trip and an absolute must see while in town.
I couldn't leave town without trying Julian's award winning apple cider plus it's the best way to spend the afternoon after a day of exploring around town and underground. The place is in an eclectic "bodega" styled shopping center with native american crafts for sale on one side and a taco stand on the other.
Not knowing which of the seven flavors to choose from, I ventured on a flight to try them all but still couldn't make a decision since they were all delicious and refreshing. Instead, since I was on my motorcycle, I bought a few bottles to bring as souvenirs for my friends. Aside from an apple pie or a chunk of gold, this is the best place to find the perfect gift to bring back that stated you had been in Julian. I stayed a little longer to talk with the locals and tourists that sat at the bar before heading out.
The road to San Diego was just as beautiful as the one I took to get to Julian. Mountains, lakes and countryside lined both sides of the winding highway and made it even harder to leave such a tranquil place.
Being raised in a small town I felt like I had taken a trip back home where I was forced to slow down and go with the flow. Julian may be standing still in time but it hosts year-round festivals and events, giving you more reason to come back and stay a while.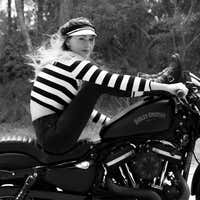 Kentucky born and raised my mother says my nationality is part gypsy and part rambler as I've always had a calling to be where I'm not. Forever a tourist, I believe in under staying my welcome but some places deserve a second visit. In my life I've logged over 4k miles by foot, 100k miles on my motorcycle, 300k by car and even more by plane in search of other people's stories and finding my own.